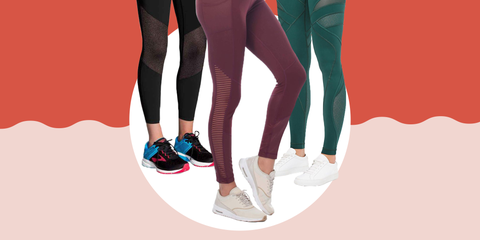 Mesh leggings can look super cute no matter where you're headed. But the right cut and material are key. Otherwise, you're looking at itchy leggings you can't wait to rip off. Not here. These tights are all comfortable, breathable, and add just the right touch of style.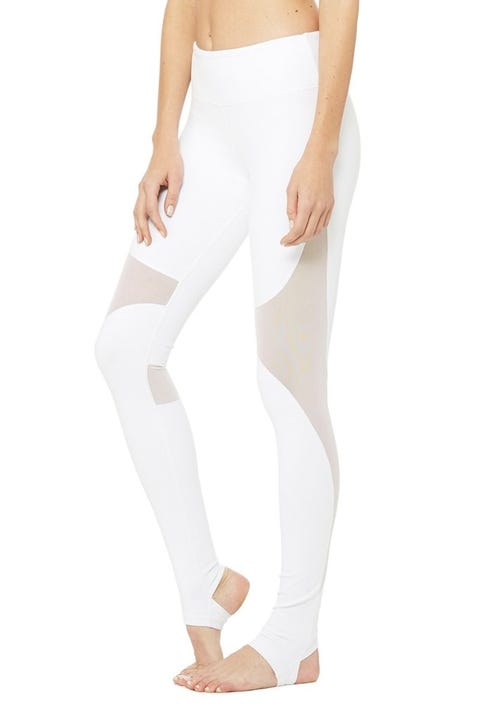 Alo Yoga
aloyoga.com
$94.00
SHOP NOW
With a high waist, stirrup feet, and four-way stretch fabric that moves with every twist and inversion, these leggings will stand up to even the most advanced yoga practice. The name is a nod to the fun wave-like mesh pattern that will have you dreaming of sun salutations on the beach.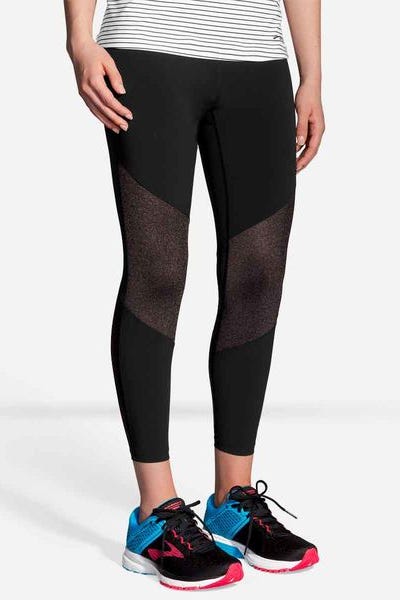 Brooks
brooksrunning.com
$58.50
SHOP NOW
The multiple mesh panels on these leggings help keep you cool no matter how stuffy the gym gets. Plus, there's a convenient waist pocket that's big enough to stash your phone.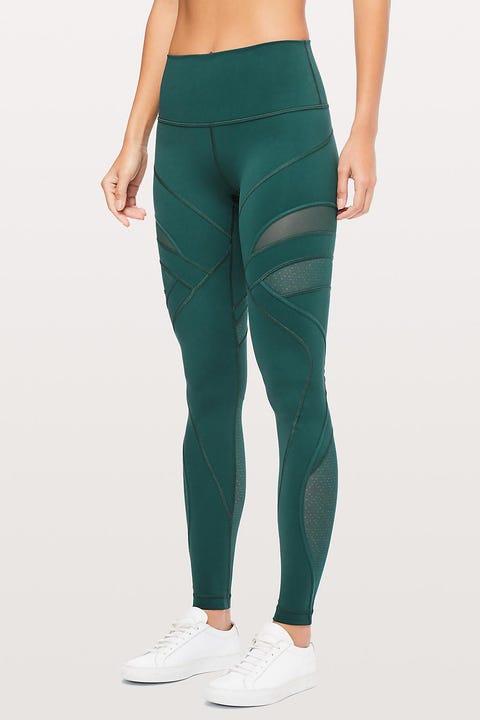 Lululemon
Lululemon
lululemon.com
$118.00
SHOP NOW
The breathable mesh designs and an extra-big side pocket make these tights both stylish and functional. Pair 'em with a matching top, or add some contrast with a pair of white sneakers.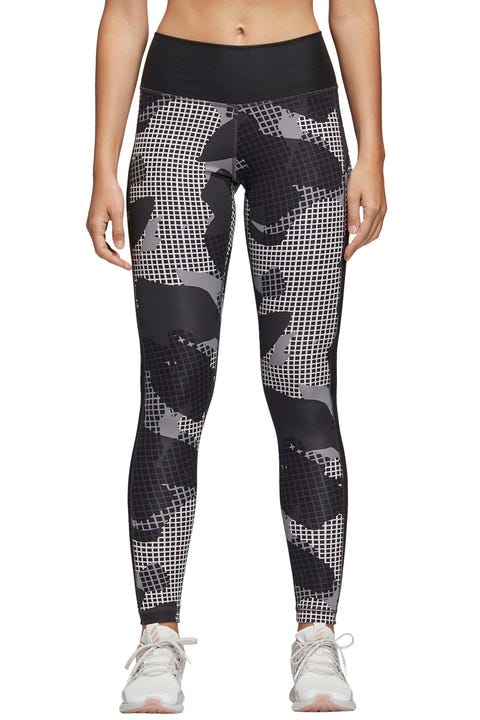 Adidas
nordstrom.com
$49.00
SHOP NOW
Say hello to leggings that make a statement. Wear these while you lift, lunge, or lie down in savasana. Either way, they'll stay put thanks to the stretch fabric and wide waistband.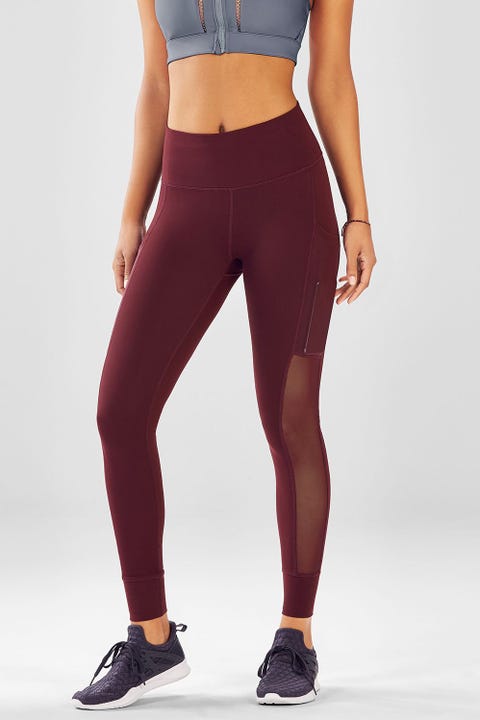 Fabletics
fabletics.com
$54.95
SHOP NOW
Tuck your phone and keys into the mesh side pocket for a totally hands-free workout.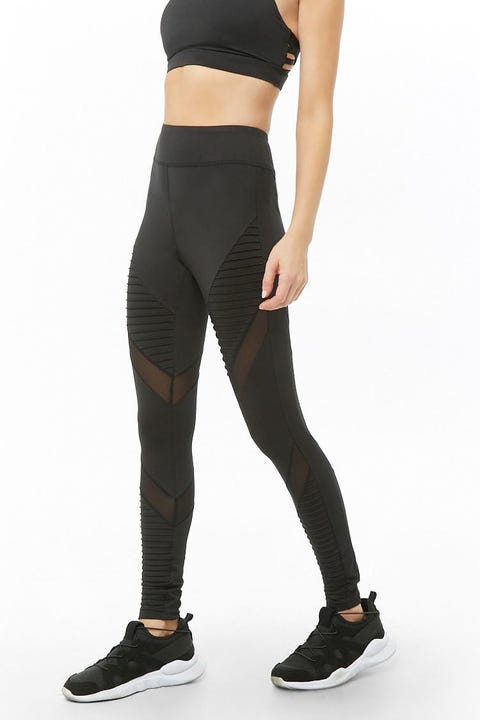 Forever21
forever21.com
$22.90
SHOP NOW
Between the mesh panels and moto details, you won't find a pair of leggings with more edge than these. Wear 'em to look as badass as you feel during that HIIT workout, then layer on a leather jacket for a chic athleisure look.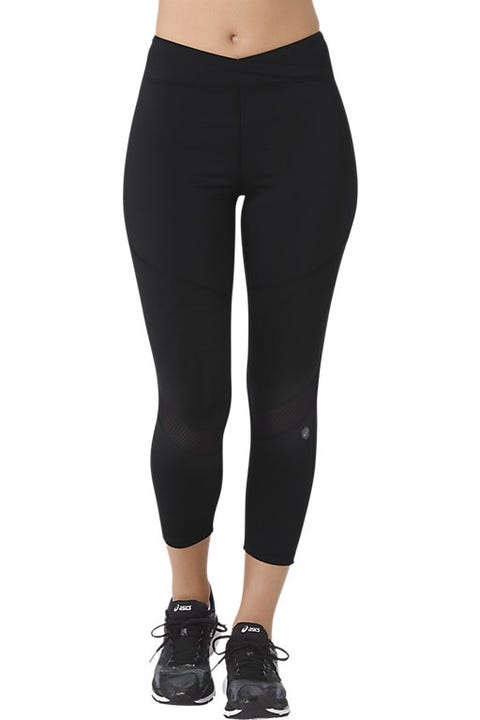 Asics
asics.com
$47.00
SHOP NOW
These leggings are perfect for staying safe during those nighttime runs. They illuminate around the knees when hit with light (like from oncoming car headlights), and the mesh panels provide extra breathability.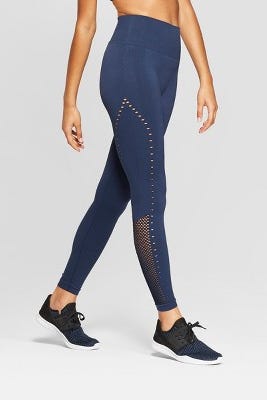 JoyLab™
target.com
$29.99
SHOP NOW
Navy is the new black, and the fishnet detailing with perforated cutouts add an extra touch of edge to ordinary mesh leggings. Plus, you can't beat Target's affordability, especially when it comes to activewear.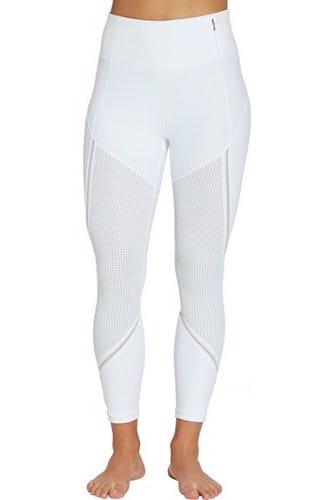 CALIA
caliastudio.com
$70.00
SHOP NOW
Most brands add just a touch of mesh, but not CALIA by Carrie Underwood. These chic all-white leggings have fun lines and perforated details that demand to be noticed. And thanks to the high waistband, these babies stay put whether you decide to run or burpee until the sun goes down. Good luck on the latter.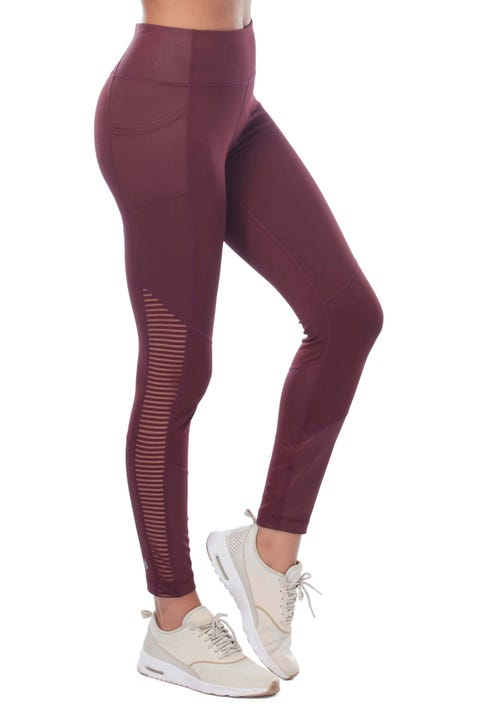 Free Country
freecountry.com
$27.99
SHOP NOW
At less than $30, it doesn't get better than these cute, comfortable leggings. Get them in the oxblood color and you'll be totally on trend.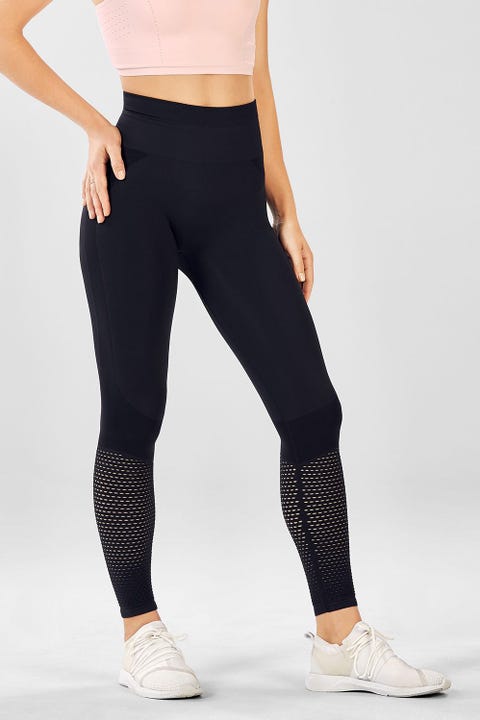 Fabletics
fabletics.com
$39.95
SHOP NOW
Jewel tones. Mesh panels. Sweat-wicking fabric. These leggings are hitting every high note for a fashionable, functional workout.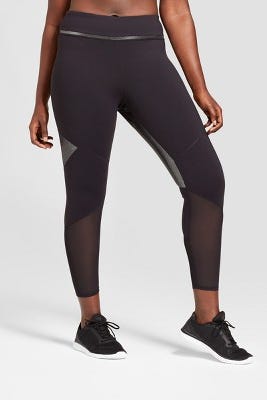 JoyLab™
target.com
$41.99
SHOP NOW
The insanely soft material of these leggings are enough to make you want to wear them all day, and the flashy metallic accents make them the perfect bottoms for a stylish brunch.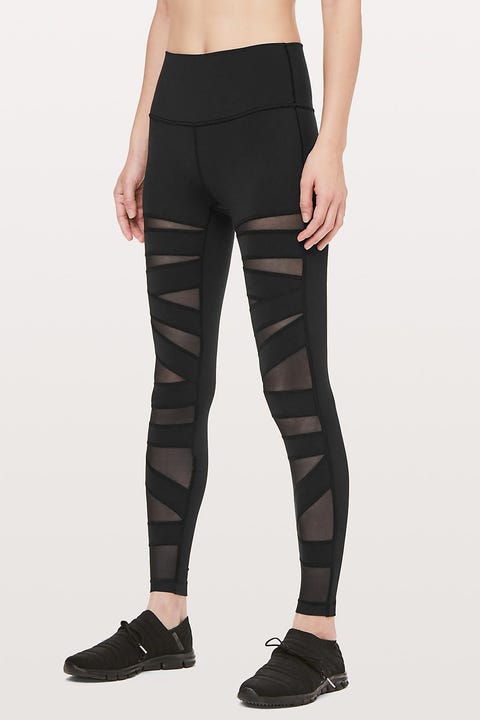 Lululemon
Lululemon
lululemon.com
$118.00
SHOP NOW
For those who get extra-hot during workouts (*raises hand*), these special-edition tights are ideal. The mesh details run all the way up the leg to give you as much ventilation as possible without being, ya know, totally pantless.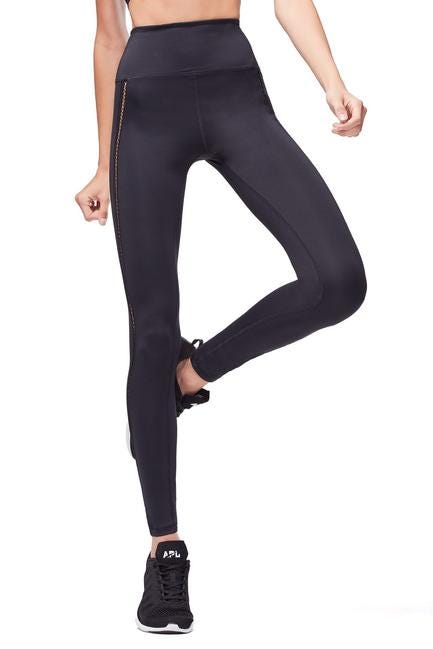 Good American
goodamerican.com
$82.90
SHOP NOW
Created for curvy women, these high-waisted leggings have contouring mesh seams that show off your figure. There's even an added mesh layer in the waistband for extra breathability.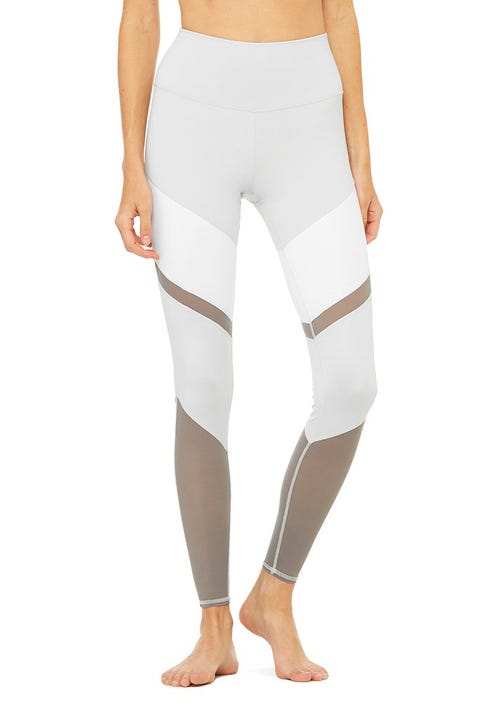 Alo Yoga
aloyoga.com
$112.00
SHOP NOW
Whether you go for the jungle green, trendy nude, or edgy black, these mesh-paneled leggings can't not be noticed. Wear them to the dance studio and feel confident enough to stand in the front row.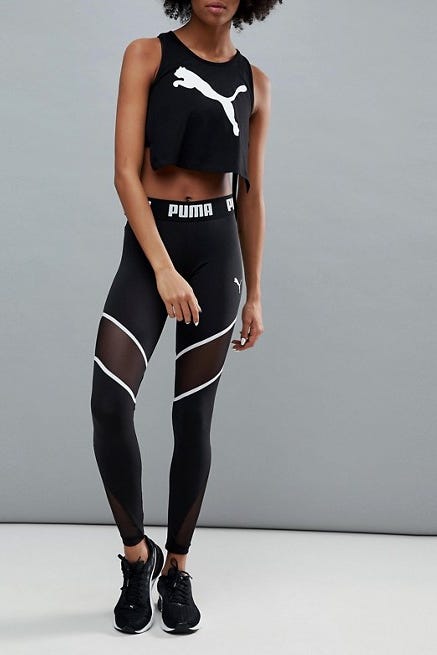 Puma
us.asos.com
$64.00
SHOP NOW
If you haven't worn clothing with logos since the heyday of Abercrombie, now's the time to revisit the trend. Logomania is back, and the waistband of these fitted tights is fire. Add in the contrast color-blocking and sweat-wicking material and these are a total winner.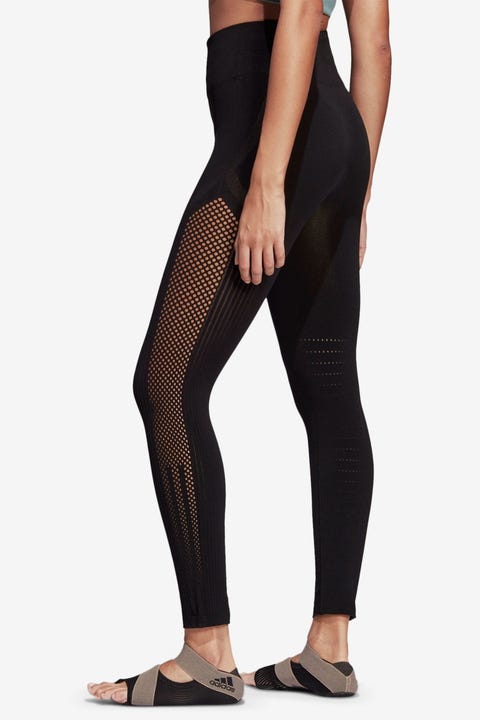 adidas
macys.com
$75.00
SHOP NOW
The seamless design and perforated mesh on these tights mean they basically feel like a second skin, so they won't get in the way of those high-intensity routines.
reebok
reebok.com
$60.00
SHOP NOW
These sweat-wicking crops are breathable enough on their own thanks to Reebok's Speedwick technology. Add in the mesh details and there won't be a single sweat stain in sight.
Source: Read Full Article