East Yorkshire native Alex Lee has always battled the mirror. Over the years, Lee watched his reflective image stretch and widen as he lost weight and then gained it back again. Simply dressing himself or picking out clothing became the most draining part of the day, and he resorted to wearing a jacket most days to escape the fear of others judging him.
In September 2016, Lee's best friend, Danny, a fit and healthy 24-year-old soccer player, collapsed at home in front of his mother. Danny died of a sudden heart attack. "It hit me like a rock," says Lee. He turned to food and daily binge eating, which left him at his heaviest weight: 297 pounds.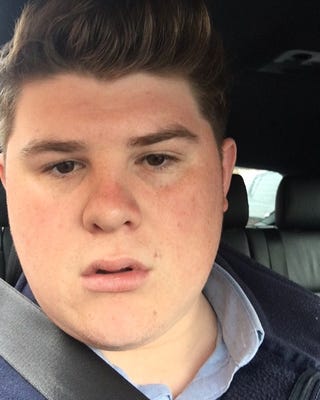 Alex Lee
Over the next year, Lee would drop close to 50 pounds and regain much of his self-confidence. But that journey was a hard-fought one; it wasn't just about losing weight. He had to tackle grief too.
One morning, Lee awoke to take a shower. He found himself in the mirror, and this time, he was horrified. "I was up to wearing XXL tees and I remember feeling completely empty and lost," he says.
Lee visited Danny's old gym and talked to the personal trainer there, Keith Thresh, another of Danny's friends. Thresh saw that Lee needed help both with his friend's loss and his own self-image. They set a plan with small weekly targets—eating this food, doing that workout. Lee was now determined.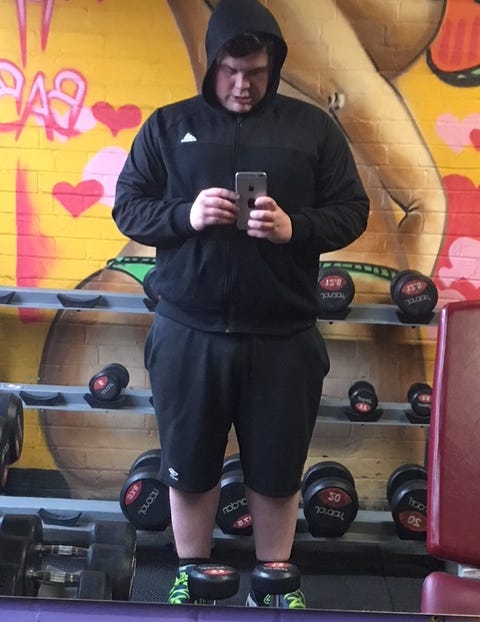 Alex Lee
Lee's earlier habits involved eating out for dinners. His first challenge was to learn how to meal prep and avoid earlier cravings. He and his partner bought a board so that they could lay out the week's meals. They would spend Sunday evenings cooking, making sure to follow Thresh's ratios of fats, carbs, and proteins.
A typical day for Lee includes four meals and two snacks. The day begins early, at 7:30 a.m., with turkey sausage, eggs, tomatoes, avocado, and blueberries. At 10:00 a.m., Lee snacks on a banana and some mixed nuts. He eats a sweet potato and lean beef lunch at noon with a side of cherry tomatoes and spinach. He eats again at 3:00 p.m.—chicken breast, spinach, and one-scoop of protein powder. And finally, at 7:30 p.m., capping off the day with either salmon, chicken, or cod, mixed with either sweet potato, or a small amount or rice. The day wraps up at just over 2,000 calories and with more than 100 grams of protein.
Lee's workouts required an equal amount of planning and prior commitment. He bought a 12-month gym membership to remind himself of his long-term goals. "I think this was a key element: telling your brain you are in this for the long run," he said. Lee first committed to two 1-hour sessions. He began working towards five sessions a week: two HIIT, two mixed cardio and weights, and one zero cardio resistance.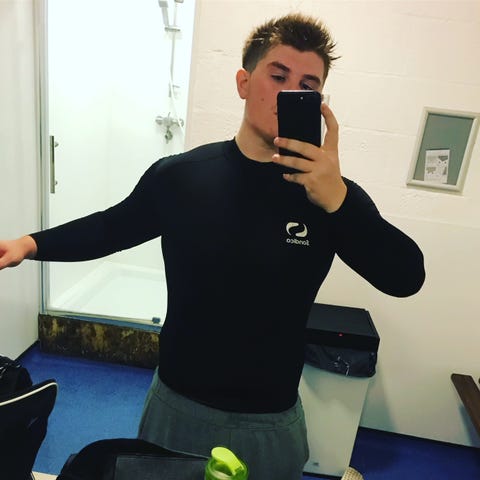 Alex Lee
Lee says his biggest challenge was maintaining confidence, as he constantly worried what other gym-goers would think. "I soon realized everyone in a gym is there to make a change and no one is judging you."
Lee promised himself he would never set an end goal, but instead work on small ongoing improvements. He lost more than 30 pounds in the first month and soon others began noticing. "It was the passing comments from gym goers who were seeing my progress that kept the fuel burning and kept me pushing on," he says.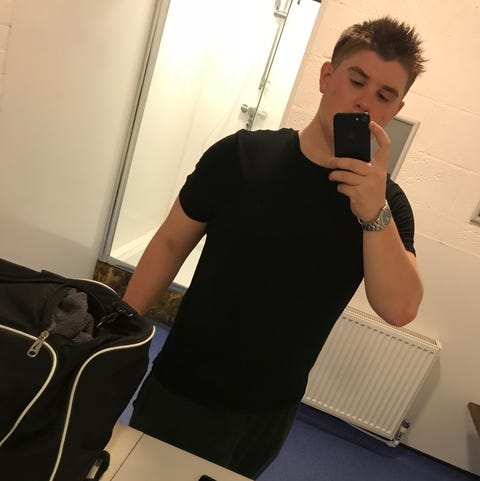 Alex Lee
Soon, Lee was down to 240 pounds. His next goal is to reach 230 by the end of June and then 220 by December.
The weight loss, he says, has helped him "win the battle" with his self-consciousness and has also allowed him to start playing soccer again, an activity his weight had prevented him from enjoying.
"To be able to resume social activities in confidence and be in a position to become a role model for my new born son Lenny is the most rewarding element!" he says.
Follow Lee's journey on Instagram (@Alex147lee)
Source: Read Full Article