Save articles for later
Add articles to your saved list and come back to them any time.
The health benefits of taking multivitamins have more to do with positive thinking than any physiological effects, research suggests, after scientists found no difference in the health of users and non-users.
Regular users of multivitamins or mineral supplements reported 30 per cent better overall health than non-users, according to a study published in the journal BMJ Open. But when the researchers looked at health outcomes, no difference between the two groups was found.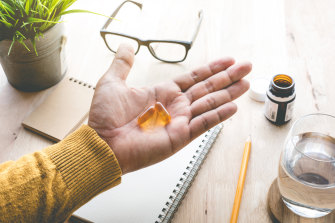 When the researchers looked at health outcomes, no difference between the two groups was found. Credit:iStock
It is estimated just over 40 per cent of Australian adults regularly take supplements, with women being the largest purchasers. According to IBISWorld, Australia's Vitamin and Supplement Manufacturing industry revenue is expected to rise to $1.6 billion this year.
The researchers, from Harvard University, said previous research had failed to identify measurable health benefits associated with daily consumption of multivitamins among those without any known vitamin or mineral deficiencies. Their study compared self-reported and clinically measurable health outcomes among users and non-users of multivitamins and minerals (MVM) in the US.
A sample of 21,600 adults who were asked about their use of supplements in the 2012 annual National Health Interview Survey, and were asked to self-evaluate their health, was used.
They were also questioned on five psychological, physical, and functional health outcomes including a subjective assessment of health, their history of 10 long term conditions such as diabetes or asthma, and the presence of 19 common health conditions in the last 12 months, such as infections or memory loss.
Around one in five said they regularly took multivitamins or supplements. The regular users were significantly older, had higher household incomes than non-users, and were also more likely to be women, educated, married and to have health insurance.
On the self-evaluation section, regular takers reported 30 per cent better overall health than those who did not take MVMs.
Better self-reported overall health for regular takers was consistent across all race, sex, and education groups, as well as in the under-65s and those on low household incomes, the study found.
However, the findings also revealed that users and non-users did not "differ in various psychological, physical and functional outcomes", which the researchers say supports previous findings that multivitamins "do not improve overall health in the general adult population".
The researchers put forward two explanations for their results. Firstly, that regular users believe in the effectiveness of these multivitamins by "harbouring a positive expectation regarding the health benefits".
Alternatively, they propose MVM users are just inherently more positive about their personal health.
There is a growing body of evidence which supports the "power of positive thinking" when it comes to improving health, the researchers said.
— with The Telegraph London
Get a little more outta life
Start your week with practical tips and expert advice to help you make the most of your personal health, relationships, fitness and nutrition. Sign up to our Live Well newsletter sent every Monday, here for The Sydney Morning Herald, here for The Age, here for Brisbane Times and here for WAtoday.
Most Viewed in Lifestyle
Source: Read Full Article