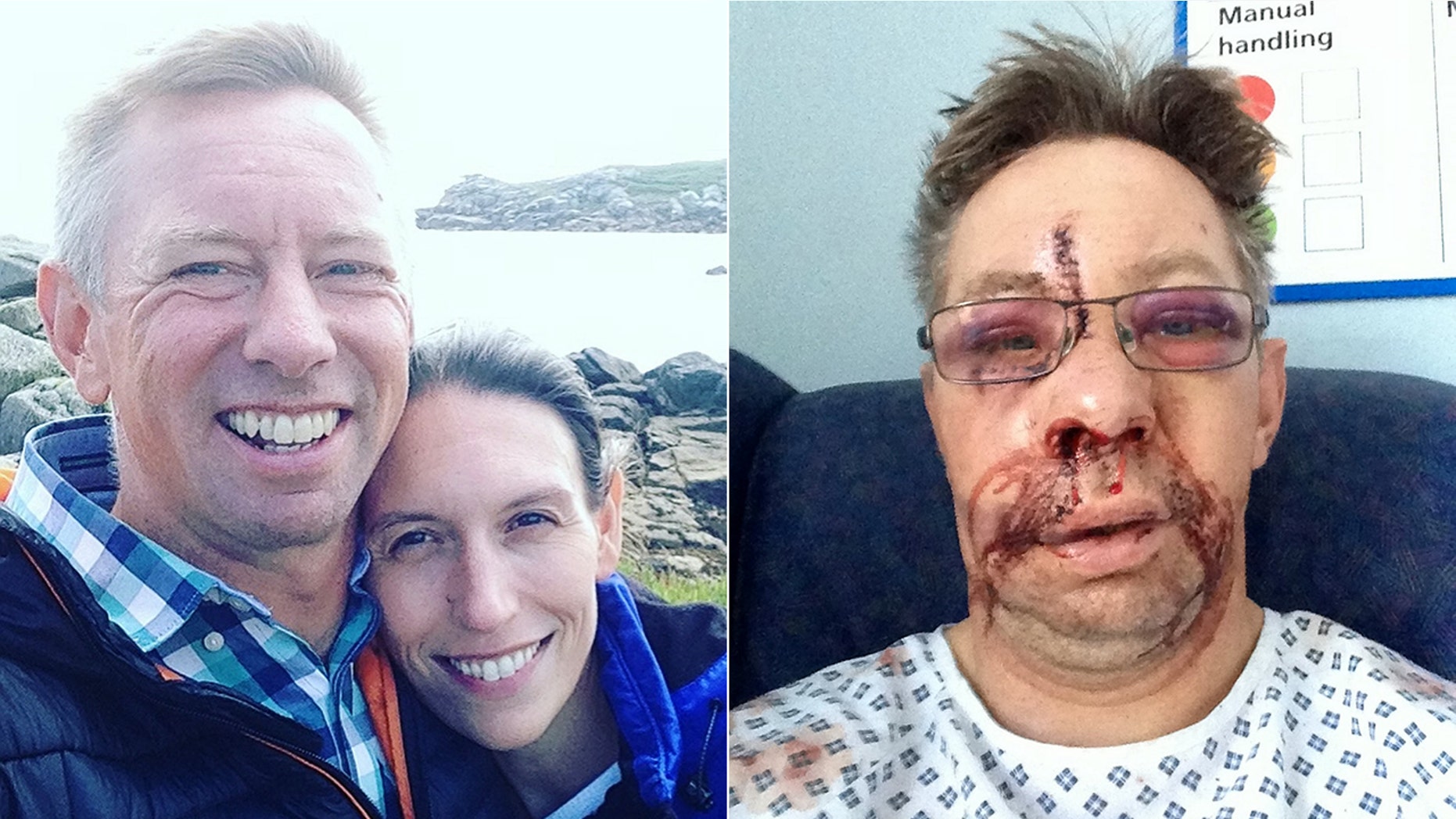 Steve Bowens, pictured left before the accident, and right shortly after, said he impact left his face "pushed in a bit."
(SWNS)
A 43-year-old man in the U.K. is on the road to recovery — and in the planning stages of a project to teach surfers how to help in an emergency — just two months after a massive wipeout left him with such severe injuries that he needed a face lift.
Steve Bowens was on a stand-up paddleboard at the time of his accident and said he misjudged the way a wave was turning, resulting in a wipeout that "pushed in" his features.
"The wave not big, about 3 feet," Bowens told SWNS. "However I landed in the wrong place at the wrong time and the board hit me square in the face, right between the eyes."
LOUISIANA GIRL, 5, LEFT PARTIALLY SCALPED AFTER HAIR GOT CAUGHT IN GO-KART MOTOR, FAMILY SAYS
The impact was enough to shatter his nose, eye sockets and right cheek, and cause a deep cut to from his forehead to his cheek, according to the news outlet. In the aftermath, he said it looked like someone had poured red paint on his board as the blood poured from his face.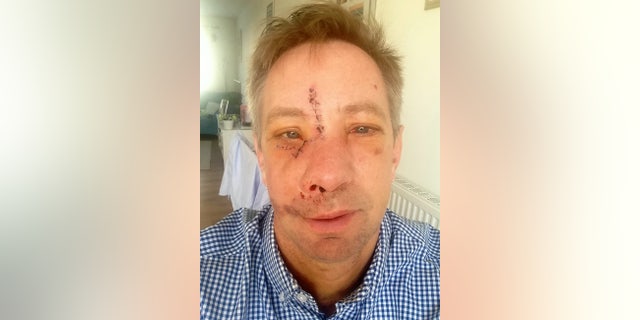 Bowens is now discussing planning a project with several surf clubs to teach other surfers what to do in the case of an emergency.
(SWNS)
"As the impact had imploded the bones which make up the sinuses, this had forced air around my brain, and created a hole from my skull to the outside world through which cerebral fluid now flowed," he told SWNS.
'INSIDE EDITION' ANCHOR DEBORAH NORVILLE TO UNDERGO CANCER SURGERY AFTER VIEWER SPOTTED LUMP ON NECK
Despite several other surfers being in the water, Bowens caught a wave back to shore on his own and was rushed to the hospital by his wife, where surgeons worked for nine hours to rebuild his face. He said if he had passed out, he believes the surfers wouldn't have known how to get him back to shore.
In an effort to educate surfers on the importance of safety in the water, he is hoping to set up a project with Surf Lifesaving UK, the RNLI and the Scottish Surfing Federation.
CLICK HERE TO GET THE FOX NEWS APP
"There were lots of other surfers around, and some of them clearly wanted to help but seemed to lack the specific skills or confidence to know how best to do this," he told SWNS.
Source: Read Full Article