Antibiotics were associated with 28% of all cases of Stevens-Johnson syndrome and toxic epidermal necrolysis, according to the first meta-analysis to examine the worldwide prevalence of SJS/TEN in connection with antibiotics.
"SJS/TEN is considered the most severe form of drug hypersensitivity reaction, and antibiotics are an important risk," Erika Yue Lee, MD, and associates wrote in JAMA Dermatology.
Their analysis, which involved 38 studies published since 1987 with 2,917 patients from more than 20 countries, showed that 86% of all SJS/TEN cases were associated with a single drug, with the rest involving multiple drug triggers, infections, or other causes. More than a quarter (28%) of those patients had used an antibiotic, and the sulfonamides were the class most often triggering SJS/TEN, said Dr. Lee of the University of Toronto and associates.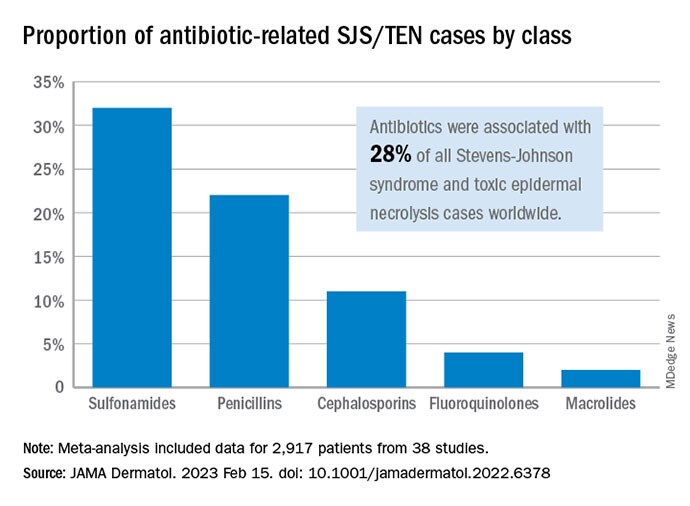 Sulfonamides were responsible for 32% of the antibiotic-associated cases, which works out to 11% of all SJS/TEN cases included in the analysis. Penicillins were next with 22% of all antibiotic-associated cases, followed by the cephalosporins (11%), fluoroquinolones (4%), and macrolides (2%), the investigators reported.
A subgroup analysis conducted by age indicated that "there was no difference in the proportion of antibiotics associated with SJS/TEN between adult and pediatric groups," they noted.
There were differences, however, among the various antibiotic classes. Sulfonamides represented 54% of antibiotic-triggered reactions in children, compared with 25% in adults, but adults were significantly more likely to have cephalosporin (23%) and fluoroquinolone (5%) involvement than were children (2% and 0, respectively). Macrolide-induced SJS/TEN was more common in children (18% vs. 1%), while the penicillin rate was 18% for both age groups, Dr. Lee and associates said.
A second subgroup analysis establishing the proportion of antibiotic-induced SJS/TEN by continent ranked Australia highest with 43%, but that was based on only one study of 42 patients. North America was slightly lower at 37%, but the analysis included 14 studies and 932 patients. Asia's 16 studies and 1,298 patients were divided into three regions, with the lowest being the southeast at 16%, according to the researchers.
"Global sulfonamide antibiotic use has been decreasing since 2000 despite an ongoing upward trend of use in other antibiotic classes," they wrote, but "antibiotics remain one of the most common culprit drugs for SJS/TEN in both adults and children worldwide."
One of Dr. Lee's associates has received personal fees from Janssen, AstraZeneca, UpToDate, Verve, BioCryst, Regeneron Pharmaceuticals, and Novavax and has served as codirector of IIID Pty Ltd, which holds a patent for HLA-B*57:01 testing and has a patent pending for detection of HLA-A*32:01 in connection with diagnosing drug reaction without any financial remuneration outside this study.
This article originally appeared on MDedge.com, part of the Medscape Professional Network.
Source: Read Full Article