Eggs are the unsung heroes of many recipes: You rarely notice them when they're there, but something would taste very off if they weren't. In fact, eggs are basically the glue that holds a lot of your fave treats together.
"A lot of people avoid eggs because they're vegan or have an allergy," says Bonnie Taub-Dix, RDN, creator of BetterThanDieting.com, and author of Read It Before You Eat It: Taking You from Label to Table.
So whether you have a dietary restriction, want to try a part-time vegan diet (popularized by the likes of Beyoncé and Meghan Markle), or you're just out of eggs, there are tons of healthy egg substitutes you can use instead. (Just be prepared to play around with measurements to find the right flavor and texture, says Taub-Dix.)
1. Mashed avocado
A quarter cup of mashed avocado makes a great substitute for an egg in baked goods, where it can also replace oil, according to Taub-Dix. You may end up seeing green pieces in your finished product, she notes, so try using it in "busier"-looking recipes to mask the look of it. (Think: brownies.)
2. Flax and chia
Ever heard of flax eggs? Yep, they're a thing. "Whisk a tablespoon of ground flax or chia with three tablespoons of water," says Taub-Dix. Then, set the mixture aside to allow the water to absorb and expand. Use your new vegan "egg" to bake or thicken sauces.
View this post on Instagram
A post shared by Sarah Tanner🌱 (@sarahtannernz) on
3. Buttermilk or almond milk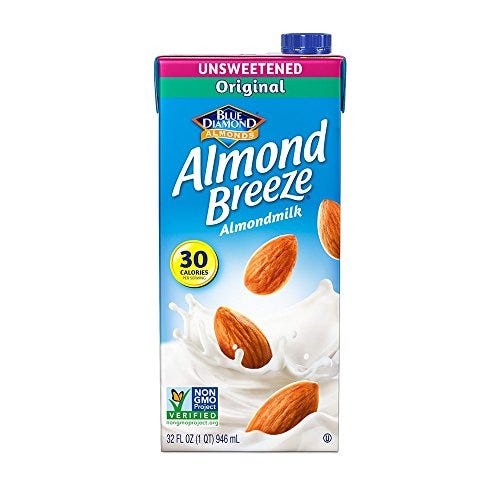 A quarter cup of buttermilk is a great egg replacement, says Taub-Dix, but vegans need not feel left out: "I was supposed to use buttermilk in a recipe, but I used Almond Breeze almond milk with some lemon juice instead, and it worked very well," says Taub-Dix. "Use a quarter cup of almond milk and a few drops of lemon, which adds tartness and thickness."
4. Banana puree
Bananas are like avocados, in that you look away for five minutes and they've suddenly ripened beyond repair. This is when you want to take advantage of their egg-replacement prowess by using a quarter cup for each egg. "They're great for all baked goods," says Taub-Dix. "But not a mock omelette."
5. Nut butter
Turns out, nut butter makes a pretty stellar egg replacement. Taub-Dix says to add a little liquid of your choice like water or almond milk to three tablespoons of nut butter (or seed butter). Use it as an alternative in recipes that already call for a nutty flavor profile like cookies or cake.
6. Aquafaba
Next time you're cooking chili and the recipe calls for drained and rinsed canned chickpeas, keep the liquid. That's aquafaba which has an eerily similar texture to raw egg whites. "It gets underused but has lots of value," says Taub-Dix, adding that you'll need to use three tablespoons per egg. If you're adding it to a sauce, you don't need to whisk it, but for baking you'd likely need to in order to create a fluffier texture. It's also a perfect replacement for eggs if you want to make a vegan meringue.
View this post on Instagram
A post shared by Sheila (@sheila_is_a_vegan_baker) on
7. Vegan egg powder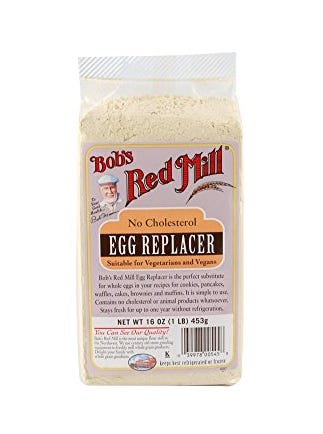 Taub-Dix recommends a powdered egg replacement combined with water when you're in a pinch. See: Bob's Red Mill Egg Replacer, made of potato starch, tapioca flour, baking flour, and psyllium husk; and Ener-G Egg Replacer made with the same first two ingredients, plus leavening, cellulose gum, and modified cellulose (which are thickening agents). Bonus: They're shelf-stable for up to a year.
8. Apple sauce
Got a toddler in the house? Then you definitely have a container of apple sauce on hand. All you'll need is a quarter cup of it to replace an egg. "It's liquidy enough, so don't add anything," says Taub-Dix.
9. Tofu
Mash a quarter cup of silken tofu into an even consistency, which you can then use in any typed of baked goods. "You want to get it as creamy as possible," says Taub-Dix. Firm tofu also makes for an excellent (egg-cellent?) replacement for in a classic scramble. Just add seasoning, plus mix-ins of choices, and you've got a protein-packed breakfast.
Source: Read Full Article