Jennifer Garner celebrates her 47th birthday on April 17, 2019. She posted a hilarious meme poking fun at her age to mark the occasion.
Her trainer Simone De La Rue says she works out four to five days a week.
Jennifer's workouts include strength training, cardio, and more.
National treasure Jennifer Garner is 47 today, and she's celebrating the big day in style. The actress shared a hilarious meme on Instagram of a bird strutting to "Crazy in Love" with the caption, "Me, walking out of my bedroom on my birthday…"
Jennifer then poked fun at her age in the caption, writing, "Me, today. #HBDtoME," and added an emoji of an older woman.
Me, today. 😁 #HBDtoME #🙋🏻‍♀️47👵🏻
A post shared by Jennifer Garner (@jennifer.garner) on
Clearly the older woman emoji was a joke, because have you seen Jennifer lately? She looks absolutely amazing.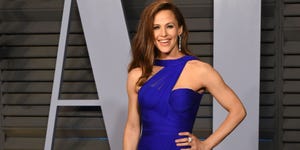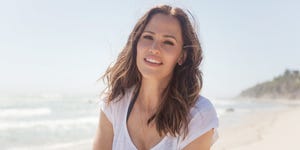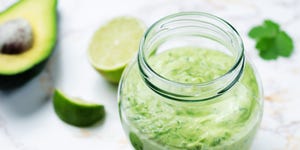 But (in addition to probably being #blessed with awesome genes) Jennifer's made it pretty clear that she works hard to be so fit and healthy. Jennifer has worked with trainer Simone De La Rue for years. The two stick to her Body By Simone programming, which is a mix of strength training and cardio. "She trains four to five days a week, when she's not prepping for a movie," De La Rue previously told Women's Health.
"We'll do something that's traditional strength training, and the next minute we'll be dancing to build agility and core strength," says De La Rue. "I really mix it up, and we're never doing one thing. She does everything, which is incredible!"
The duo took their training to the next level when Jennifer was prepping for her movie Peppermint, back in September. (And the result was serious biceps goals.)
It's finally here! If you're looking for a fun night out, may I suggest going to your local theatre to see #PEPPERMINTmovie?! 🙌🏼 Putting a movie into the world is humbling, thrilling and absolutely terrifying. I hope you like it, thanks for hanging in while I've talked about it ad nauseam 🙊😬 #femaledrivenmoviesneedyou #rileynorth #myoneandonlycagefight #readyforpretendcookingshow🙋🏻‍♀️👵🏻
A post shared by Jennifer Garner (@jennifer.garner) on
De La Rue also previously told Womens Health that her client worked out six days a week (for one to two hours a day) to get extra strong for the role. They also did three months of intense prep. "We worked on lifting heavier weights, usually around 15 pounds," she says. "We also did a lot of bodyweight work, and supplemented with my custom resistance bands." De La Rue also says they did lots of triceps extensions with weights and the resistance band, along with triceps dips.
Jennifer also shared some of her workouts with De La Rue on Instagram, including one packed with abs exercises, planks, pushups, and lifting that makes me want to take a nap just looking at it.
In case you're interested in this kind of thing 🤷🏻‍♀️, here's a little taste of Simone and me doing what we do 👯‍♀️—basically, this is a #PEPPERMINTmovie workout. #workoutwednesday with @bodybysimone #shelooksnicebutshesnojoke #❤️❤️❤️ . 🎶: "Booty Swing" by @parovstelarofficial
A post shared by Jennifer Garner (@jennifer.garner) on
Jennifer has also been working with nutritionist Kelly LeVeque, according to Delish. LeVeque is known for her "Be Well by Kelly Diet," which Jennifer used to prep for her role in Peppermint. She also later told Wired:"I actually have really liked the diet, so I've stuck on it."
Jennifer even shared a smoothie recipe from LeVeque on Instagram, in case you want to try it:
Don't be scared! It's tastier than it looks! I started working with @bewellbykelly a few months ago to get ready for #PEPPERMINTmovie and have had her smoothie every day for breakfast since. Today, I decided to play scientist and see if my @onceuponafarm cold-pressed, organic purée (or baby food, if you're a baby, but whatever) could be a substitute for fresh blueberries when I didn't see any in the fridge. Yep, it could. 👏🏼👏🏼 —– #BeWELLSMOOTHIE recipe: 2 scoops @primalkitchenfoods collagen protein powder (hot tip: I prefer the Chocolate Coconut Collagen Fuel) 1 tablespoon ground flaxseed 1 tablespoon chia seeds 1 tablespoon almond butter (if no one's looking I use extra…😬) 1 1/2 cups unsweetened almond milk Handful of fresh spinach Small handful of ice Very small handful of blueberries (please see almond butter. Also true here. 🤷🏻‍♀️) —– Mix all ingredients together in blender and enjoy.
A post shared by Jennifer Garner (@jennifer.garner) on
Still, Jennifer is super-open about her love of baking and cooking, and it seems like she's not that restrictive with what she eats.
This time of year it is extra cozy to send kids to school with something warm in their bellies. My kids feel extra cozy about @realbakingwithrose's chocolate bread. This recipe isn't crazy sweet and, with a good swish of peanut butter, is just the thing for my early rising middle schooler. You can find the full episode on IGTV. #PretendCookingShow #bangwentthecabinet #😡😩🤦🏻‍♀️wentmybrain #hurryupchristmas🤶🏻 . #TheBreadBible Chocolate Chocolate Chip Bread Ingredients: 3 Tbs plus 1/2 Tbs unsweetened cocoa powder 3 Tbs boiling water 1/2 Tbs pure vanilla extract 3 large eggs 1 1/2 cups sifted cake flour 3/4 cup plus 2 Tbs sugar 3/4 tsp baking powder 1/4 tsp salt 13 Tbs unsalted butter, softened 3 Tbs chocolate mini chips or bittersweet chocolate (chopped) . Directions: 1. Preheat oven to 350F. 2. Whisk cocoa and boiling water until smooth. Allow to cool to room temperature, then gently whisk in vanilla and eggs. 3. In a mixer bowl, combine cake flour, sugar, baking powder, and salt. Mix on low speed for 30 seconds to blend. Add half the chocolate paste and the butter and mix until dry ingredients are moistened. Increase speed to medium-high and beat for 1 minute to aerate and develop structure. Scrape down the sides of the bowl. Gradually add remaining chocolate paste in two batches, beating for 20 seconds after each addition to incorporate the ingredients and strengthen the structure. Scrape down the bowl. Fold in chocolate mini chips/chopped chocolate. 4. Scrape batter into prepared loaf pan and smooth the surface with a spatula. 5. Bake for 50-60 minutes. An instant-read thermometer inserted into the center will read about 200F. (The bread shouldn't start to shrink from the sides of the pan until after removal from the oven.) 6. Set the bread on a wire rack to cool for 10 minutes. Loosen the sides of the bread and invert onto an oiled wire rack. Reinvert so it is top side up and cool completely.
A post shared by Jennifer Garner (@jennifer.garner) on
Now, that's a diet I can get behind!
Source: Read Full Article