Dennis LoLeng thought he'd never be the same after the accident. He was on his way home when a driver behind him—distracted by his phone, not paying attention to the road—plowed into the back of LoLeng's car while going nearly 60 miles per hour.
The crash left LoLeng seriously injured, with three herniated discs in his lower back. In the months that followed, he dealt with near-constant pain. "I knew I was in serious trouble. My doctors prescribed a lot of pain meds and injections," he says. "I was given steroids, and I gained a lot of weight."
LoLeng, 47, an advertising executive who lives in the Murray Hill neighborhood of Manhattan, initially gave up a lot of things that had kept him physically active for years, including his favorite sport—tennis. "I couldn't play because of the pain," he says. "It started from my lower back and radiated to my lower leg. At times, my leg would be constantly numb. I was devastated and depressed, and so I ate food to comfort myself."
While LoLeng sometimes played through the pain, the occasional doubles match wasn't enough to offset the effects of his poor diet. As a result, his weight steadily climbed, topping out at more than 260 pounds. He knew he needed to make a change, but wasn't sure where to start. One day, through a mutual friend, LoLeng was introduced to a trainer, Mauro Maietta, who works for Crunch Fitness in Manhattan. With Maietta's help, LoLeng began to train three days a week using a program designed to help him simultaneously to lose weight and overcome his injuries.
Maietta quickly realized that LoLeng's biggest weakness was his appetite for sugary foods—cookies, cakes, and other breads. "We focused on his daily nutrition, and gave him a smart approach to his food cravings," Maietta says. "He had to earn the weekly cheat meal, and I had him track his daily food intake on a phone app that I was able to view each day to provide encouragement and feedback." Gradually, LoLeng learned the cost of the food he was eating, and started to work healthier alternatives into his diet—vegetables for white potatoes and pasta, water for soft drinks.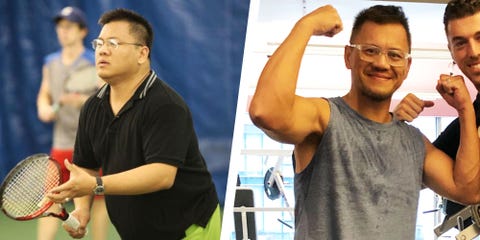 Dennis LoLeng
Thanks to his improved diet, Maietta says, LoLeng was able to drop 80 pounds in his first year of training alone. Through a specially designed strength and conditioning program, LoLeng also went from 26 percent to 14 percent bodyfat, and added more than 15 pounds of lean muscle mass in about two and a half years. Maietta says the routine focuss on full-body movements that keep LoLeng constantly moving, along with timed rest periods. The workouts proved to have a dramatic effect on LoLeng's physique, quickly helping him return to the court—this time without the nagging pain. "I have so much more confidence," he says. "I look up and have my back straight all the time. I'm not embarrassed or uncomfortable or uneasy about my body. My body is hot!"
Today, Loleng is back to form as a 4.5 ranked tennis player on the USTA Circuit. In fact, LoLeng and his teammate, Trent, recently returned from a doubles tournament win in Orlando, Maietta says. To reach that point, LoLeng emphasizes the importance of his support network—including his husband, Russell, who holds a PhD in nutrition—which helped him stay focused and consistent whenever he'd want to quit or give in to his cravings. "Losing weight is not a one man show. You need a supporting cast to help build you up," he says. "You have to be ready for the change and the journey you're about to embark upon."
Source: Read Full Article