Healthy fried food that's just as delicious as the real thing? This isn't the stuff of legend. The air fryer is officially the go-to kitchen appliance of keto-dieters, Whole30 doers, and really anyone who is looking to enjoy healthier versions of crispy fries and chicken wings.
The gadget, which "fries" food using a small amount of oil and hot air to dehydrate and cook to get a crispy texture, has boomed in popularity within the last few years—and it doesn't appear to be dying down anytime soon. (Admit it: You totally had an air fryer on your holiday wish list.)
But is the hype really warranted? Does an air fryer actually make healthy eating easier? The experts have some thoughts.
What is an air fryer exactly?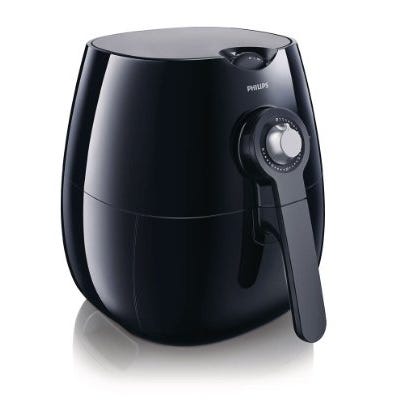 Air fryers are countertop appliances that work like powerful, mini convection ovens. The inner chamber and suspended basket allow hot air to circulate around the food, causing it to cook, quickly, evenly, and to crispy perfection, says Dana Angelo White, RD, author of the Healthy Air Fryer Cookbook. You can also place other properly sized dishes and pans inside for baking, she adds.
Natalie Rizzo, RD says you can use an air fryer to replicate pretty much any traditionally fried food your heart desires. "You can use to it to create a crispy coating on anything you would normally fry, like french fries, chicken fingers, or veggies."
It can also be used to make a great nut or oat topping to add some crunch to roasted foods, she says. All you do is brush oil on the foods you're about to fry, and heat the device to the temperature you need. "It depends on what you're cooking, but usually the 300- to 400-degree Fahrenheit range is typical," she says.
Is air-fried food healthy?
Air-frying is definitely healthier than a regular fryer, says Rizzo. By slashing the oil, you're cutting a ton of calories and fat. The exact amount is hard to pinpoint, because cooking preparations can vary by machine and by person, but you're using a tablespoon of oil versus the whole quart used in traditional deep-frying, says Rizzo.
Plus, you can make a lot of veggie-heavy recipes taste just as satisfying as an order of fries, says White. "Some of my favorites are quinoa stuff peppers, sweet potato hash, asparagus wrapped with crispy prosciutto, and zucchini ribbons with fresh herbs," she says. Yum!
Are there any downsides to air-frying?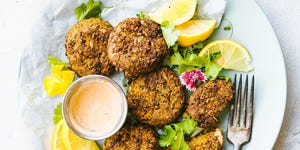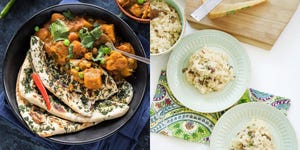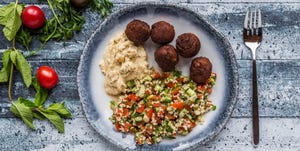 It's important to note that air-frying isn't healthier than other non-frying cooking methods. (You're still eating fried food, here.) "It makes things like chicken fingers and mozzarella sticks a little better for you, but they are still breaded, making them less healthy than eating grilled chicken or good old fashioned cheese," says Rizzo. You also might run the risk of eating bigger servings of foods that aren't super nutritious (like fries) just because they're made in a slightly healthier way than normal.
Your best bet is to use the air fryer on occasion as a treat, but not daily. "I think it's good to not go overboard on the air frying, and limit it to once a week," says Rizzo.
What are the best ways to use an air-fryer?
Of course, the air fryer is a great option for lighter chicken wings and French fries but it's also ideal for making healthier versions of breaded fish, pizza, and even cakes, says White. "For best results, I suggest always preheating the machine before cooking and be sure to clean the machine well between each use. Crumbs can accumulate in the bottom of the unit, which can burn and smoke," she says.
You don't always need a recipe. "I usually use my air fryer for from-scratch cooking, but I'll occasionally put some easy convenience foods like bagged frozen sweet potato fries in the air fryer," says White. "They come out so much better than baking them in the oven on a sheet pan."
Need some more inspiration? Try these air fryer recipes that will not disappoint: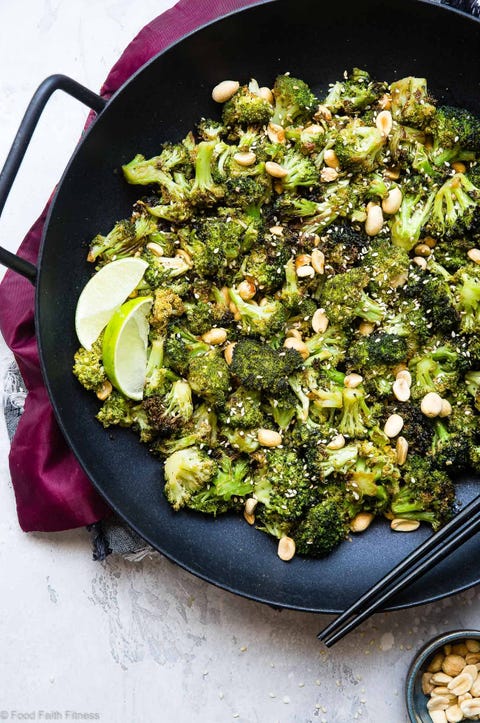 Food Faith Fitness
Air Fryer Roasted Asian Broccoli
Enjoy all the Asian flavors you love like garlic, sriracha, soy, and peanut with a little less excess oil and sodium than you'd normally get with Chinese takeout. Bonus: This dish is low-carb and vegan.
GET THE RECIPE
Per serving: 154 cal, 10.8g fat (1.7 g sat), 10.9 g carbs, 5 g sugar, 318 mg sodium, 4.2 g fiber, 6.4 g protein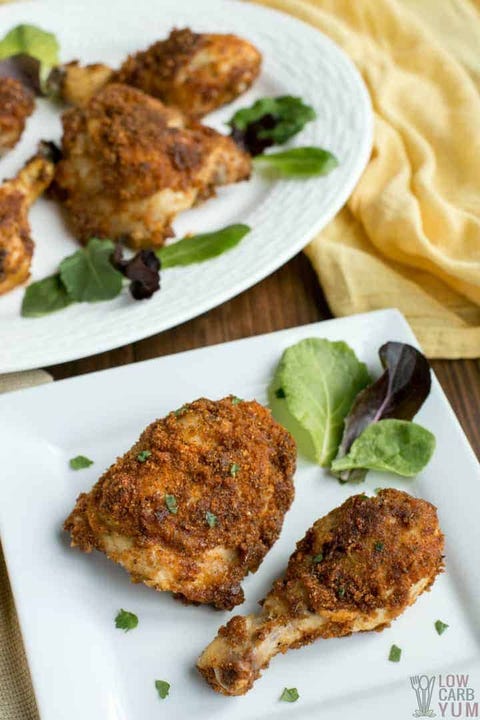 Low Carb Yum
Low Carb Keto Fried Chicken
Enjoy some delicious, crispy fried chicken, in a slightly healthier way. This recipe from is low in carbs and works well for the keto diet.
GET THE RECIPE
Per serving: 539 cal, 37g fat (11 g sat), 1 g carbs, 0 g sugar, 1108 mg sodium, 0 g fiber, 45 g protein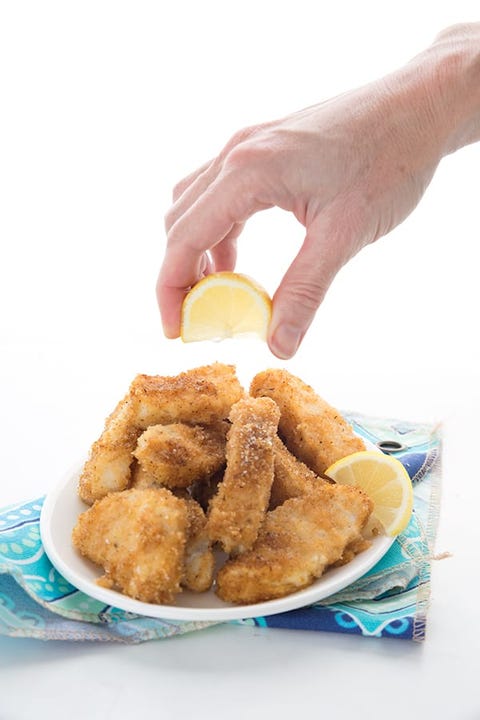 All Day I Dream About Food
Crispy Air Fryer Fish Sticks
This healthy take on fish and chips is low-carb and super easy to put together in the air fryer. It only takes 20 minutes, so it's the perfect busy weekday meal when you're short on time.
GET THE RECIPE
Per serving: 302 cal, 16g fat (3 g sat), 1 g carbs, 0 g sugar, 935 mg sodium, 0 g fiber, 35 g protein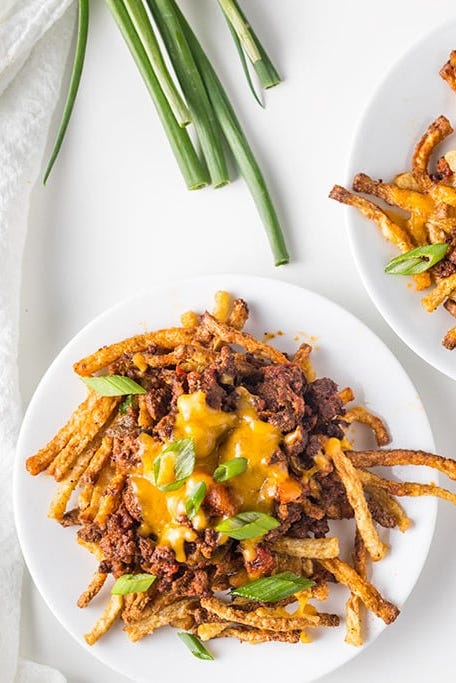 Wholesome Yum
Crispy Air Fryer Jicama Fries
Talk about a plate of fries. This dish is made with jicama to make it low in carbs and high in fiber and nutrients. Then, it's loaded with meat, cheese, and onions—think of it as a healthier chili cheese fries recipe.
GET THE RECIPE
Per serving: 452 cal, 28 g fat, 27 g carbs, 6 g sugar, 13 g fiber, 22 g protein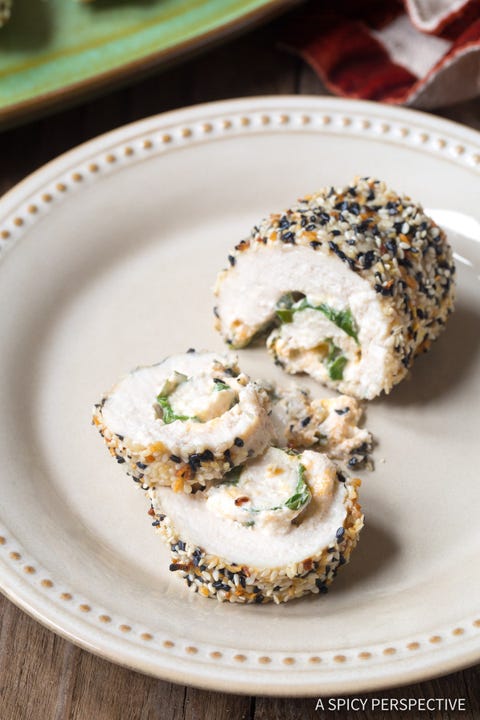 A Spicy Perspective
Air Fryer Everything Bagel Chicken Roll-Ups
Enjoy this beautiful combo of your fave bagel flavor plus crusted chicken. What's more, since they're roll-ups, you can eat them on the go, no fork or knife required.
GET THE RECIPE
Per serving: 5327 cal, 22g fat (7 g sat), 11 g carbs, 1 g sugar, 976 mg sodium, 6 g fiber, 61 g protein
Bottom line: Yes, air fryers help you prep classic fried foods in a healthier way. But it's important to still eat air-fried foods in moderation to maintain a balanced diet.
Source: Read Full Article