Before I dive in, I want to make one thing super clear: Chrissy Teigen is not on the keto diet. (I actually think she'd drag me on Twitter if I said she was, and I'd really like to be friends, so…yeah.)
But—and this is a big but—she just posted her new fave snack on Twitter and it has exactly zero carbs, which makes it totally keto-friendly.
Chrissy shared a picture Pork Cloud Fried Pork Rinds in Habanero Pepper on Twitter last night with the caption, "Wowowowowwow are you ready for another snack alert because [insert photo here]." She tweeted a few more times about the pork rinds, too: "…here's where you all tell me how gross I am because you've never tried it: I dip them into thai spicy shrimp paste (nam prik) it is a delight."
Wowowowowwow are you ready for another snack alert because pic.twitter.com/eBMnnk5qU2
Chrissy then told someone else the snacks were "BONKERS" and that she "couldn't stop eating. NO CARBS." A follower also suggested that Chrissy "drag them through some pimento cheese…also 0 carbs," to which Chrissy replied, "whoa. will do asap!"
So yeah, Chrissy loves pork rinds—and honestly, I don't blame her. The snacks come in four different flavors: Garlic Thyme, Habanero Pepper, Malabar Black Pepper, and Rosemary & Sea Salt. Even better: You can buy them on Amazon as full bags or 100-calorie serving bags.
Here's how the nutrition info breaks down for the pork rinds: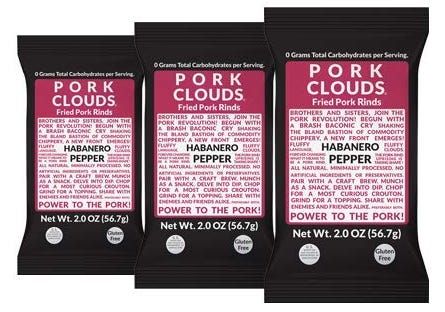 Per serving: 80 calories, 5 g fat (1.5 g saturated fat), 225 mg sodium, 0 g carbs, 0 g fiber, 0 g sugar, 9 g protein.
The moral of the story? Chrissy Teigen loves (no-carb, keto-friendly!) pork rinds—and that makes me love her, like, 1,000 percent more than I already did.
Source: Read Full Article