The largest combined analysis of birth outcome data for women with systemic lupus erythematosus (SLE) who took belimumab (Benlysta) during pregnancy appears to indicate that the biologic is "unlikely to cause very frequent birth defects," but the full extent of possible risk remains unknown. The drug's effect on B cells, immune function, and infections in exposed offspring were not captured in the data, but a separate case report published after the belimumab pregnancy data report indicates that the drug does cross the placenta and builds up in the blood of the newborn, reducing B cells at birth.
Children of women with SLE have increased birth defect risks, and standard SLE therapeutic agents (for example, cyclophosphamide, methotrexate, mycophenolate mofetil) have been implicated in birth defects and pregnancy loss, but birth defect data for biologic drugs such as belimumab are limited. While belimumab animal data revealed no evidence of fetal harm or pregnancy loss rates, there was evidence of immature and mature B-cell count reductions.
Belimumab is approved by the Food and Drug Administration for use in patients aged 5 years and older with active, autoantibody-positive SLE who are taking standard therapy, and also for those with lupus nephritis.
Michelle Petri, MD, of Johns Hopkins University, Baltimore, and coauthors reported in Annals of the Rheumatic Diseases on data they compiled through March 8, 2020, from belimumab clinical trials, the Belimumab Pregnancy Registry (BPR), and postmarketing/spontaneous reports that encompassed 319 pregnancies with known outcomes.
Across 18 clinical trials with 223 live births, birth defects occurred in 4 of 72 (5.6%) belimumab-exposed pregnancies and in 0 of 9 in placebo-exposed pregnancies. Pregnancy loss (excluding elective terminations) occurred in 31.8% (35 of 110) of belimumab-exposed women and 43.8% (7 of 16) of placebo-exposed women in clinical trials. In the BPR retrospective cohort, 4.2% had pregnancy loss. Postmarketing and spontaneous reports had a pregnancy loss rate of 31.4% (43 of 137). Concomitant medications, confounding factors, and/or missing data were noted in all belimumab-exposed women in clinical trials and the BPR cohort. Dr. Petri and colleagues reported no consistent pattern of birth defects across datasets but stated: "Low numbers of exposed pregnancies, presence of confounding factors/other biases, and incomplete information preclude informed recommendations regarding risk of birth defects and pregnancy loss with belimumab use."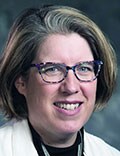 Dr Megan Clowse
In an interview, coauthor Megan E. B. Clowse, MD, MPH, associate professor of medicine and director of the division of rheumatology and immunology at Duke University, Durham, N.C., said that "the Annals of the Rheumatic Diseases article provides some reassurance that belimumab is unlikely to cause very frequent birth defects. It is clearly not in the risk-range for thalidomide or mycophenolate. However, due to the complexity of collecting these data, this manuscript can't explore the full extent of possible risks. It also did not provide information about B cells, immune function, or infection risks in exposed offspring."
A separate case report by Helle Bitter of the department of rheumatology at Sorlandet Hospital Kristiansand (Norway) in Annals of the Rheumatic Diseases is the first to show transplacental passage of belimumab in humans. Other prior reports have shown such transplacental passage for monoclonal IgG antibodies (tumor necrosis factor inhibitors and rituximab). Even though the last infusion was given late in the second trimester, belimumab was present in cord serum at birth, suggesting much higher concentrations before treatment was stopped. While B-cell numbers were reduced at birth, they returned to normal ranges by 4 months post partum when they were undetectable. In the mother, B-cell numbers remained low throughout the study period extending to 7 months after delivery. The authors stated that the child had a normal vaccination response, and except for the reduced B-cell levels at birth, had no adverse effects of prenatal exposure to maternal medication through age 6 years.
"The belimumab transfer in the case report is the level that we would anticipate based on similar studies in infant/mother pairs on other IgG1 antibody biologics like adalimumab – about 60% higher than the maternal level at birth," Dr. Clowse said. "That the baby has very low B cells at birth is worrisome to me, demonstrating the lasting effect of maternal belimumab on the infant's immune system, even when the drug was stopped 14 weeks prior to delivery. While this single infant did not have problems with infections, with more widespread use it seems possible that infants would be found to have higher rates of infections after in utero belimumab exposure."
The field of lupus research greatly needs controlled studies of newer biologics in pregnancy, Dr. Clowse said. "Women with active lupus in pregnancy – particularly with active lupus nephritis – continue to suffer tragic outcomes at an alarming rate. Newer treatments for lupus nephritis provide some hope that we might be able to control lupus nephritis in pregnancy more effectively. The available data suggests the risks of these medications are not so large as to make studies unreasonable. Our current data doesn't allow us to sufficiently balance the potential risks and benefits in a way that provides clinically useful guidance. Trials of these medications, however, would enable us to identify improved treatment strategies that could result in healthier women, pregnancies, and babies."
GlaxoSmithKline funded the study. Dr. Clowse reported receiving consulting fees and grants from UCB and GlaxoSmithKline that relate to pregnancy in women with lupus.
RECOMMENDED READING
Rituximab raises remission rate in granulomatosis with polyangiitis
Vaccination cuts long COVID risk for rheumatic disease patients
Cardiovascular risk score multipliers suggested for rheumatic diseases
Warfarin best for thrombotic antiphospholipid syndrome?
Abnormal bleeding common among youth with joint hypermobility
This article originally appeared on MDedge.com, part of the Medscape Professional Network.
Source: Read Full Article