Adult life happens. Marriage and kids come along. Old exercise habits die. For Brandon Sanford of Seattle, Washington, it all happened so fast. His weight had never been a problem. But as the years came and went, he found himself slowly going up in clothing sizes. Then he started feeling down, no longer happy about himself. He started eating more and drinking more. Keeping up with his kids became more taxing. He was 211 pounds, and a crisis was just around the corner.
"Last year over spring break, the family and I went to Palm Springs," Sanford remembers. "There was a bunch of stressful stuff happening at work, and the combination of that and not doing a great job of taking care of myself reached its peak. I had a panic attack. It was terrifying. The worst part was that the kids were in the car. From that point forward, it was like: Okay, let's do this. My wife and my kids deserve the best version of me."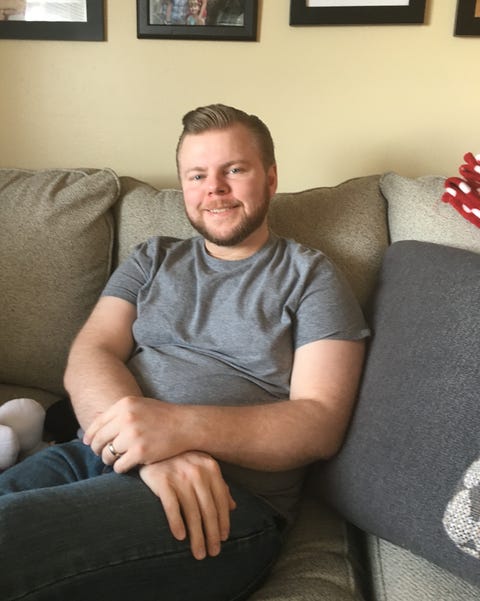 Brandon Sanford
Over the next year, Sanford would lose 73 pounds, trimming down to a lean 139.
He began with an aggressive diet, including protein shakes for breakfast and salad, nuts, and jerky to get him through the afternoon. The diet was limiting and too restrictive, so Sanford did more research. He changed it up. Breakfast became a banana, a protein shake, half a cup of overnight oats, and some nonfat yogurt. Lunch was four or five ounces of protein. Dinner was light: a small amount of protein with a salad. Desert was peanut butter.
Sanford's pantry also underwent a renovation. Gone now were the prepackaged goods and frozen meals. His grocery cart started filling up with more produce, healthy carbs, and lean protein. "I try and make sure that I'm not just eating a protein shake in place of what could be super lean chicken or turkey," he says.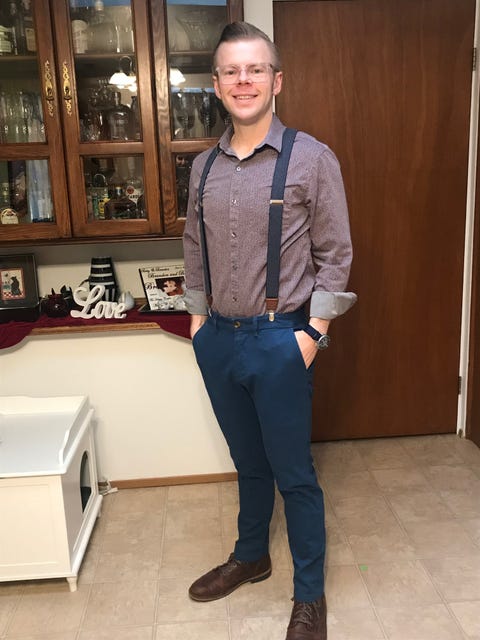 Brandon Sanford
For exercise, Sanford began with circuit training, weights, and stationary bike work. He then turned to HIIT on the bike. "Ten pounds down turned into 30, 40, 50," he remembers. Then his fitness goals began changing. "I wanted to take it a step further, so I publicly committed to a goal."
Sanford was determined to get abs by April of this year, a goal that would help him push through the last 20 pounds. He began lifting five days a week and doing four sessions of HIIT cardio. Sanford says he prefers doing bodyweight exercise for his HIIT sessions. "Just grinding out the calories on the stationary bike started to get old. And it's easy to fall into a rut. Building in some variety of exercise keeps things interesting. And my body just responds better to variety."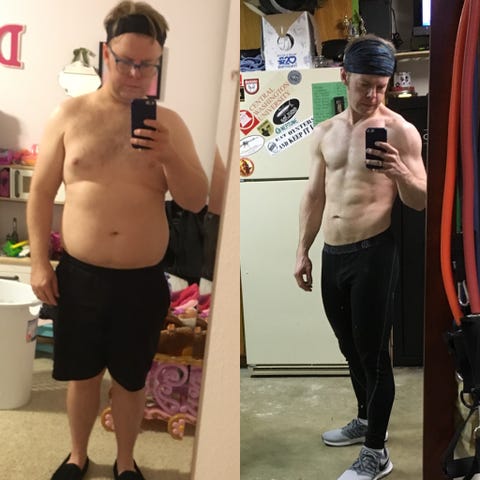 Brandon Sanford
By the time Sanford dropped below 140, everyone was noticing. Telling his friends and coworkers his goals also helped Sanford maintain accountability. He wasn't going to let them or himself down.
And Sanford's largest reward came from his daughters. "The other day, one of my daughters looked at me and just said, 'Daddy, you're getting so strong and healthy.' That got me all choked up."
Source: Read Full Article