Things had gotten away from Paul Rosol. He was still active, playing pickleball with his wife making it to the gym, but it wasn't doing enough to offset the diet and sedentary lifestyle for the 60 year old from Eden Prairie, Minnesota. Then the Type II Diabetes came. Now, with his first grandkid just arrived and encouragement from his physician son, Paul needed to get things back in check. Beyond 'in-check', even. He wanted to flourish. He'd lost his own father to a heart attack when he was seventeen. His dad was 56. He was all too aware of not wanting to miss out. "As I grew older, I became more nervous, but I never did anything to ensure my longevity," he says. "I've never been able to control my eating—when I play cards, my hand's always in the snack bowl. I'm a personal chef on the side and do catering with my wife, so food is everywhere."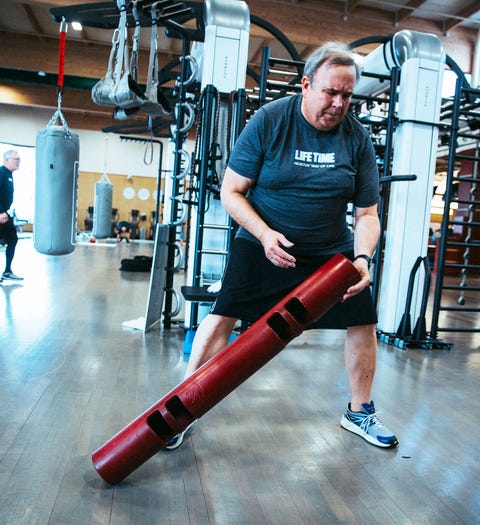 Nick Onken
So the auditor for a local clothing company set to work with renewed discipline and rigor to get his health back in order, and with an assist from his trainer and nutritionist at Life Time.
Adapting a fitness and nutrition regimen to a serious health issue like Type II diabetes requires some finessing and fine tuning, and an extra level of care. He'd cut his regular calorie intake from over 2,2000 a day down to 1,339 when he started the program in November.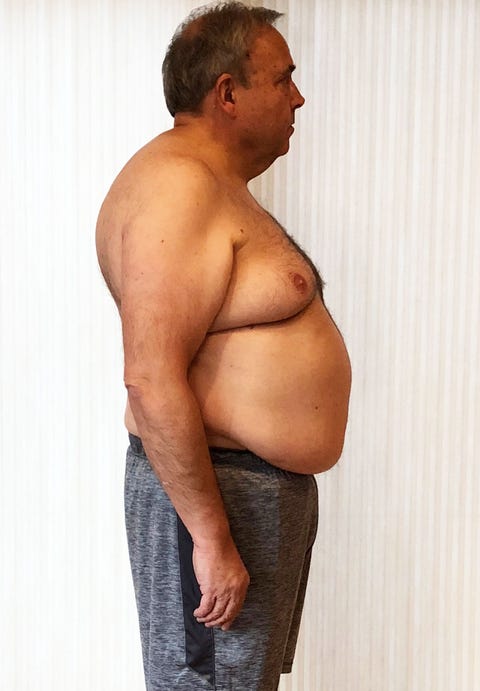 Courtesy
"I hit a plateau in December," Rosol says. "I kept losing and gaining the same two pounds." So he met with his trainer, who suggested increasing his carbohydrates on cardio days. That diet change, coupled with a slightly more challenging fitness routine, helped him break through. Rosol says he's lost almost 40 pounds. The tape doesn't lie either. He's down 5 ¾ inches around his midsection and 4 ½ inches around his hips.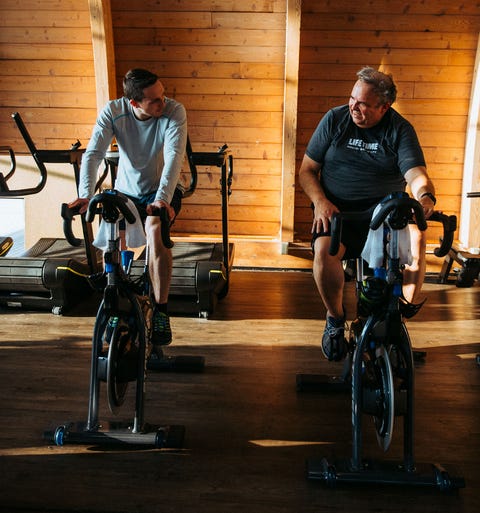 Nick Onken
His greatest challenge, Rosol says, is adapting what he and his wife cook together. They've had to overhaul many of their carbohydrate-heavy favorites to his more protein-centric plan. "We love pancakes," he says. "Now we make a Greek yogurt pancake with very little flour." Dinner is chicken, fish, or pork, with roasted broccoli, cauliflower, Brussels sprouts, or cabbage. It's somewhat rigid, he admits, but it's working.
"Paul started out at 40 percent body fat, but dropped to 33.7 percent body fat by the end of the challenge," says his Life Time trainer Kirk McFarland. "He trains with me Monday through Friday around 5 or 5:30 in the morning, when most people are still in bed sleeping."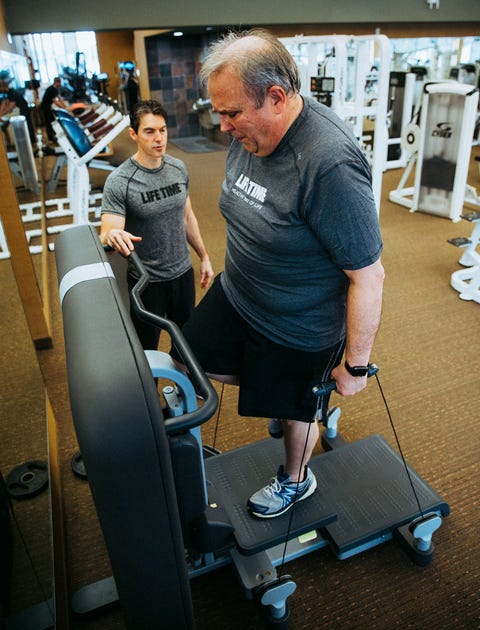 Nick Onken
What motivates him to step inside the gym at 5:00 a.m. every morning? "I'm so mad at myself for getting the way that I did over the years. I don't want to do that to myself again."
"I bought a dress shirt four years ago that I liked, but I could never button the bottom two buttons because the shirt was too tight," says Rosol. "I'm wearing that shirt right now."
Drop those Later in Life Pounds
If you're a motivated big guy, like Rosol, Kirk McFarland, C.P.T.-N.A.S.M., N.S.C.A., C.N., of Life Time Eden Prairie recommends these strategies to get your weight loss going again:
Start with Safe Exercises
After 25 years on the couch, Rosol couldn't just jump into hard-core workouts. So McFarland started him with basic moves that are unlikely to lead to injuries, like plank, bird-dog, and rotator-cuff exercises to strengthen his spine and shoulder joints. For metabolic conditioning, he did medicine-ball slams and rowing. These moves build strength without overloading your muscles.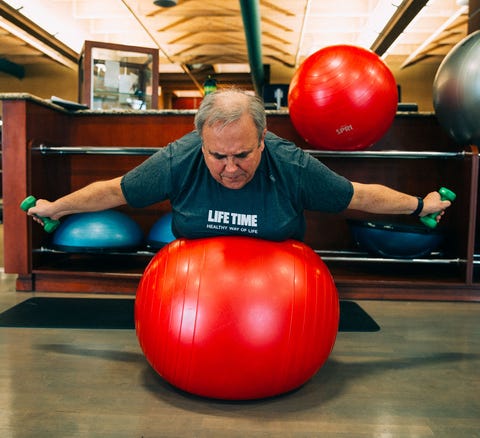 Nick Onken
Throw in Some Changeups
Rosol worked out six days a week, alternating a day of fast-paced weight training and body-weight work with a day of interval-style cardio on a treadmill, stationary bike, elliptical, and rower. This approach stimulates muscle growth one day and ramps up your heart rate the next.
Keep Walking
Rosol wanted to do more training—but he didn't want an injury. The solution: A few evenings a week, he hit the gym again, solely to walk on a treadmill "to get some additional calorie expenditure," says McFarland. It's an easy, safe way to slide more activity into your life without risk.
___
Eat for Weight Loss, and Your Life
Losing weight and managing a medical diet can be a challenge, but it's possible with some of these tips from Kirk McFarland of Life Time Eden Prairie.
Get Tested for Diabetes
Weight loss for diabetics is different than for non diabetics. If you're diabetic, you have to pay particular attention to carbohydrates, especially empty carbs devoid of fiber and stuffed with sugar. That means replacing foods like white bread, white pasta, soda, and candy bars with non-starchy vegetables and fruit. Consult your physician, as lower-carb nutrition plans may alter the need for medication.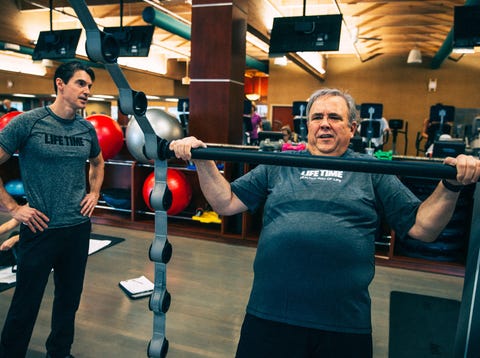 Nick Onken
Eat More Cabbage
The cruciferous vegetable offers a ton of fiber, nutrients, and disease-fighting antioxidants for minimal calories. For a simple slaw, thinly slice and combine with a splash of red-wine vinegar and a little salt and pepper. Or chop and toss into a chicken stir fry.
Fear Not the Pig
A lot of people skip pork and opt for chicken because they think pork fat is bad. Well, when you're on a low-carbohydrate diet, you need to makeup for the lost calories (and not be hungry all the time) with fat.
THE BEFORE
Weight: 270
Body Fat: 40%
THE AFTER
Weight: 228
His markers for diabetes—A1C, glucose fasting—are all down to the extent that his doctor believes he'll be able to ease off his medication. He uses his asthma inhalers less.
Source: Read Full Article