In 2017, going vegan was predicted to be the biggest food trend in 2018. And it certainly was. In fact, the vegan trend quadrupled in the five years between 2012 and 2017, according to the Vegan Society. Plus, demand for meat-free food increased by nearly 1,000 percent in 2017. So it was a surprise to no one when meatless substitutes trickled into the frozen-food aisle of grocery stores and, more recently, fast-food joints have caught onto the trend, including Pizza Hut and Carl's Jr., which just added the Beyond Burger to its menu.
But right now, it's jackfruit that's captured the hearts of vegans and fans of meat-free food everywhere.
Jackfruit is a tropical fruit that's sweet in flavor. But what makes it perfect as a substitute is its texture, which is similar to that of pulled pork. Jackfruit is so versatile it can be used in both sweet and savory dishes.
But right now, let's stick with the savory.
Ahead, we've gathered 11 jackfruit recipes you'll want to try immediately.
Vegan Hawaiian jackfruit pizza
Who needs ham on their Hawaiian pizza when you have jackfruit? This version elevates the tired Hawaiian pizza and adds avocados, cilantro and jalapeño.
Steamed jackfruit buns
In just five easy steps, you'll have sweet and tangy steamed buns that skip on the pork.
Vegan jackfruit tacos
When in doubt, toss jackfruit, avocado slices, lime wedges and cilantro on lightly crisped tortillas. It Doesn't Taste Like Chicken's taco recipe takes only 25 minutes to prepare and doesn't skimp on the seasonings.
Maple-Buffalo pulled jackfruit sandwiches
Maple and Buffalo sauce in one recipe? We're here for this sweet-and-savory combo, and Connoisseurus Veg's pulled, tender jackfruit sandwiches look like they won't disappoint.
Jackfruit curry
Here's a recipe that'll warm you up. Packed with onion, garlic, jalapeño and fresh ginger, this curry from Thyme & Love has all the flavors you love but ditches the meat.
Jamaican jerk jackfruit Caribbean black bean mango wraps
These Jamaican jerk wraps from Vegan Richa are crunchy, juicy and take very little effort to make.
Vegan gyros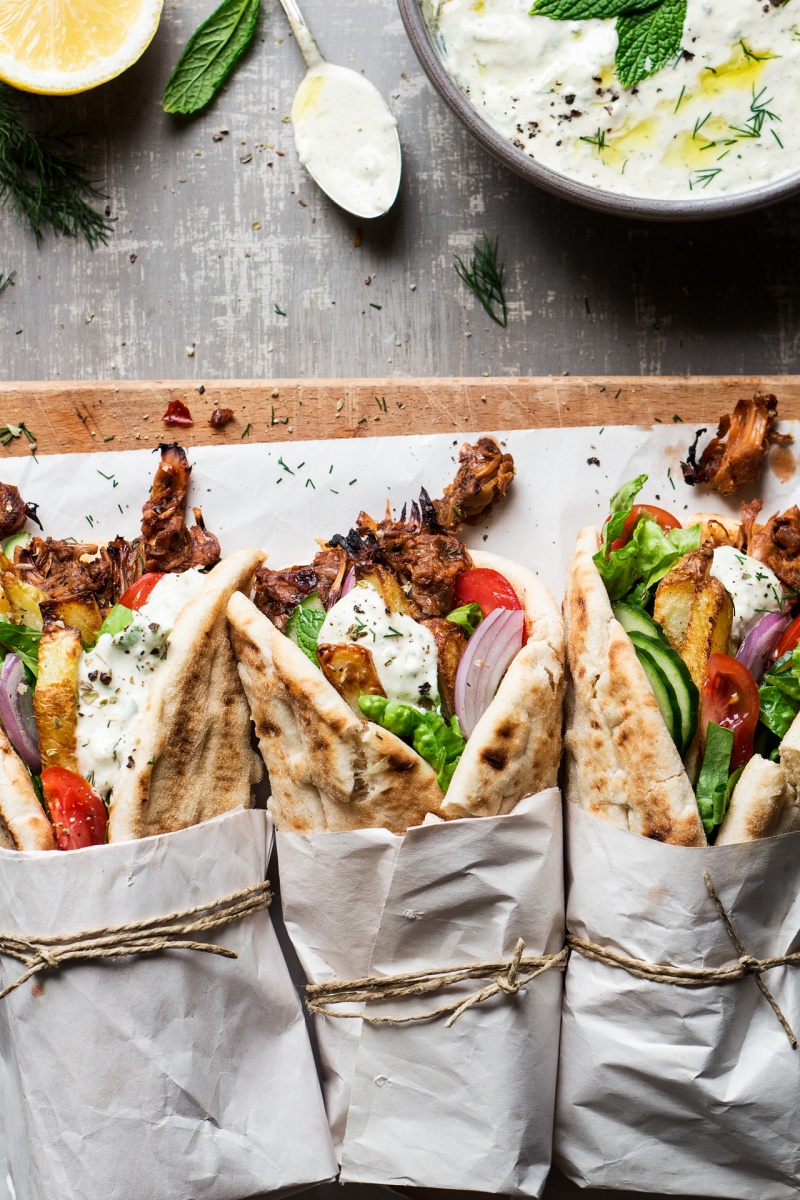 Wait, wait, wait: jackfruit in a gyro? Lazy Cat Kitchen made it happen. Featuring all the traditional flavor you've come to expect in a gyro, the only difference in this recipe is the meat.
Vegan jackfruit potpie
On days when you're ravenous for comfort food, potpie is always the answer. And substituting jackfruit for chicken in a potpie is as clever as it gets. You won't even notice it's jackfruit when it's buried in a creamy concoction with veggies.
Vegan smoky tahini jackfruit sandwich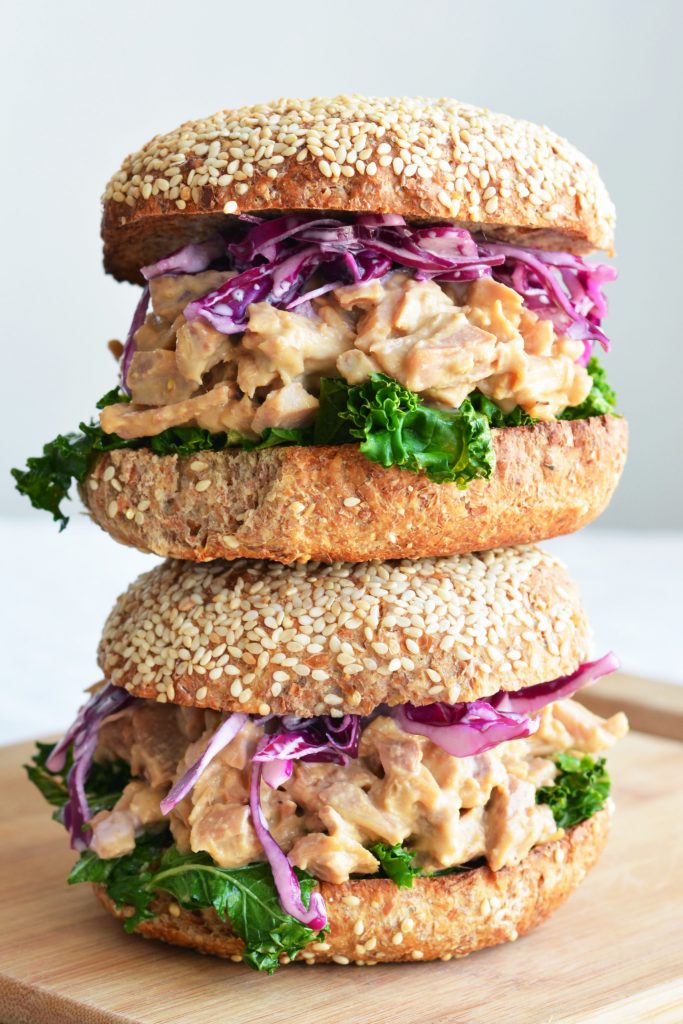 Not only is The Colorful Kitchen's smoky jackfruit sandwich vegan, but the slaw, which adds that essential crunchy texture to the tender tahini- and maple syrup-seasoned jackfruit, is too. It's made with three simple ingredients: cabbage, vegan mayo and pickle brine.
One-pot vegan tortilla soup
With jackfruit chunks, veggies and tortillas swimming in a smoky, spicy vegan broth, Minimalist Baker has mastered the vegan tortilla soup. Don't forget to garnish it with fresh avocado, lime and cilantro.
Jackfruit flautas with sweet corn sauce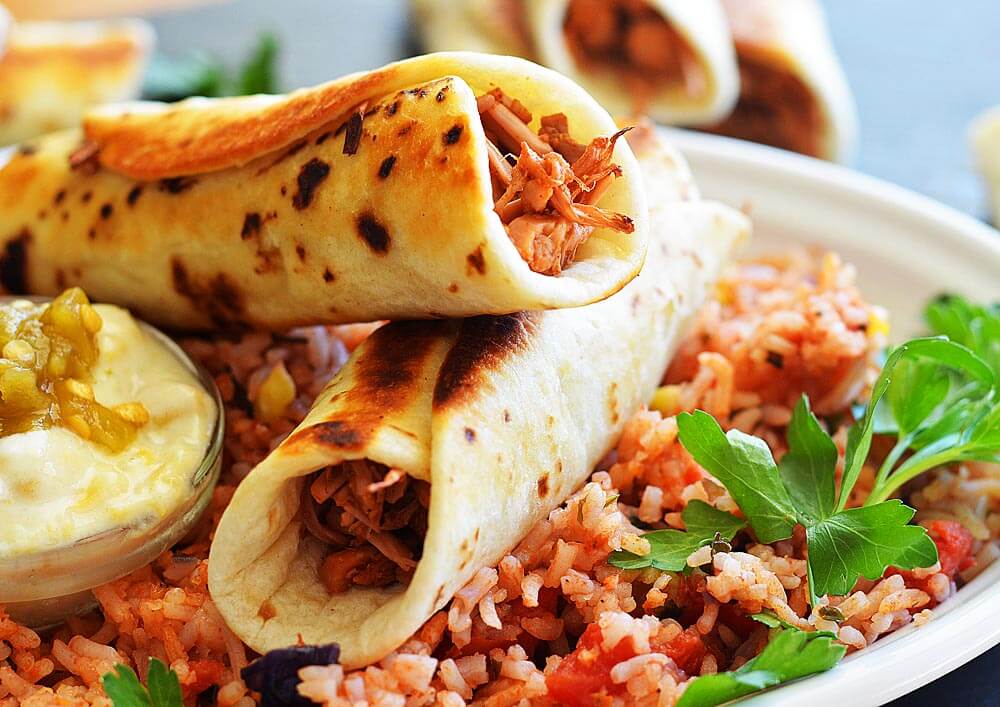 Served on a bed of colorful Mexican rice and topped with a sweet corn chili sauce, these jackfruit flautas seasoned with dry rub, paprika and chili powder will fill you up.
Source: Read Full Article